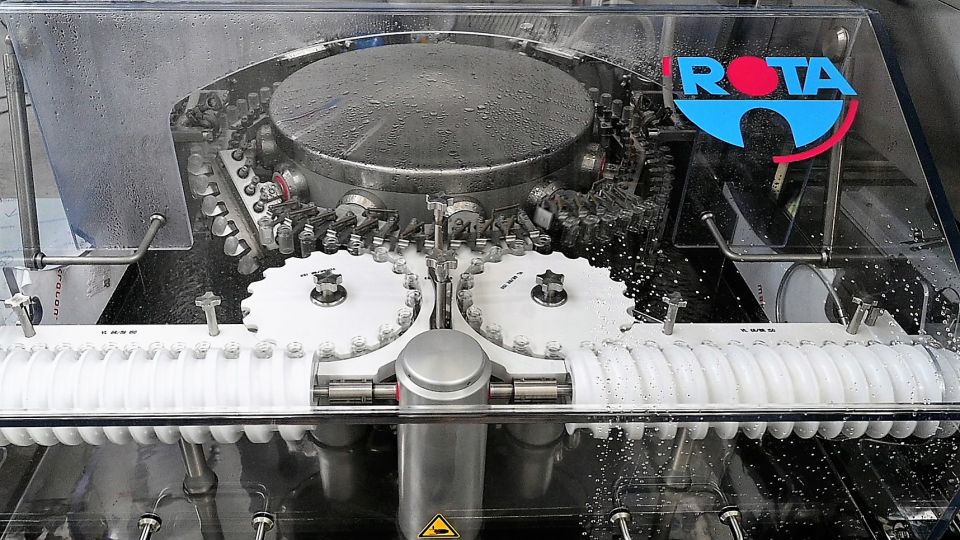 Applications / Washing & Cleaning
Washing and cleaning machines for pharma-grade cleanliness
Effective and gentle washing: inside and outside
Before sterilization and depyrogenation, the inside of open containers must be washed if they are to be sterilely filled and sealed. Already in this first process step - washing inside as well as outside - high technology and know-how pay off. Washing machines from ROTA guarantee effective and gentle washing of ampoules, vials and bottles.
For safety and protection: cleaning and decontamination on the outside
An external cleaning and drying machine from ROTA also ensures the necessary safety at the end of the processing cycle. Vials and bottles are efficiently decontaminated from possible toxic deposits with the ROTA external cleaning machine, protecting operators, users and the environment.
Washing of vials, bottles and ampoules
For each washing circuit, the spray time can be optimally adjusted according to the shape and size of the objects to be washed. The cleaning efficiency and minimum changeover times ensure cost-effectiveness, as do the minimal energy and media consumption.
Combined application with only one machine
Ampoules, vials and bottles can be washed with one and the same ROTA washing machine. Changing the tongs and a few format parts takes only a few minutes.
Options
Water consumption can be further reduced by recycling the waste water from the final rinse.
Other specific solutions such as ultrasonic pre-cleaning or differential pressure monitoring of the installed filters can be implemented just as easily.
Washing of ampoules

Washing of ampoules

Washing of vials

Washing of vials

Washing of bottles
External cleaning of vials and bottles
Especially when processing toxic products, high attention must be paid to operator protection. At the end of a processing operation - usually after the capping machine - ROTA's external cleaning and drying machine removes the remaining residues on the outside of the vials.
Efficient exterior cleaning and decontamination
An innovative 360° high-pressure ring nozzle is used to clean the vials from top to bottom. This specially developed ring nozzle with Coanda effect ensures maximum cleaning effectiveness with reduced water consumption. The Coanda effect is also used in a modified form for drying in order to achieve maximum drying efficiency with low air consumption.
To prevent contaminated water from entering the seam between the closure and the vial, even the closure is protected. This ensures the prevention of contamination with maximum safety for the end customer.
Options
A machine enclosure as a containment variant for protection against harmful and highly potent substances can be easily implemented. Air-rinsing of the water lines or filtration of the cleaning media is also a standard option.
Cleaning vials

Cleaning Vials

Cleaning vials
Advantages
Safe transport of the objects
Precise pincers and the latest servo motor technology ensure a high level of safety against glass breakage and cross-contamination.
Changeovers in minutes
Simple format changeover and recipe management (touch screen panel) allow ROTA washing and cleaning machines to be converted for processing different objects within minutes.
Wide range of models
Choose from several washing and cleaning machine models to find the right one for your production needs. We will be happy to advise you with our experience for the overall process.
Technical data
Washing (inside)
9mm to 68 mm object diameter
Up to 24,000 per h
Washing (outside)
Up to 52 mm object diameter
Up to 7,200 per h
Service
Do you need support?
We are happy to answer any questions you may have.
Just contact us, we look forward to hearing from you!